Retail Outlet
Our shipping setup doubles as our retail outlet and we are open to walk-in visitors and tour groups from Spring thru Fall. We are located 45 minutes east of Cleveland - right near Lake Erie and nestled in the heart of Northeast Ohio's nursery and wine country.
Come visit - You won't be disappointed! It's a plant candy store and a great way to see our hundreds of varieties all alphabetized on tables with full information and available for purchase. Catalog plants are nicely discounted. We add some annuals in the spring and 200+ bulb varieties in late September.
Find us on Google Maps
, or call for directions 800.852.5243.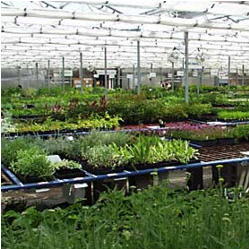 Spring - Early Summer
April to Mid June
Monday - Friday: 9:00 am - 5:00 pm (Eastern)
Saturday: 9:00 - 4:00 pm (Eastern)
*Closed Saturday, Sunday and Monday of Memorial Day Weekend
Summer
Late June to August
Monday - Friday: 9:00 am - 4:00 pm (Eastern)
*Closed Saturday, Sunday and Monday of Labor Day Weekend
Fall
September to Late October
Monday - Friday: 9:00 am - 4:00 pm (Eastern)
Saturday: 9:00 - 4:00 pm (Eastern)
*Closed Saturday, Sunday and Monday of Labor Day Weekend
Winter
Late October to Late March