Our All Natural Plantable Pots
We're excited! All our plants are grown in 100% biodegradable plantable pots. Made from coconut husk fibers (Coir) these pots have tremendous advantages over plastic pots:
You plant the pot directly into the ground -- little to no transplant shock.
With better air exchange, this "breathable" pot fosters robust root growth.
Made from a renewable resource requiring very little energy.
100% biodegradable -- becomes part of the soil on its own. No composting required.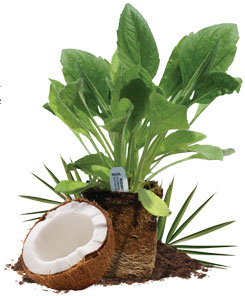 The exceptional permeability to water, air and plant roots allows our plants to quickly grow a robust root system. In traditional plastic pots, plants will tend to become root-bound with a tightly interwoven root mass at the bottom of the container. When grown in a coco pot, the same plant grows healthy roots throughout the entire pot. The roots spread out in all directions right through the pot. Just plant the pot -- they are ready to grow!